Listen to the entire HOOSIER DADDY Hallowed Ground CD on Spotify by clicking the Green "Follow" link below ........
Introducing ... Tate Music Group recording artists .... HOOSIER DADDY !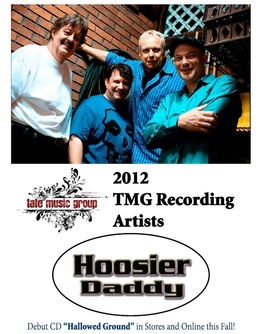 HOOSIER DADDY ..... Cool cover-tunes and Original music that gets down!!
For years this exciting band has been entertaining crowds with their unique blend
of Rock and Roll, Rockabilly, Motown R & B, and Blues to an audience
that really enjoys excellent musicianship and great sounding music!

Led by Singer/Guitarist Perry White.
Perry's distinct soulful vocal style, song-writing, and Guitar tones
gives HOOSIER DADDY its main identity.
Resonator slide guitar, Acoustic guitar, Electric guitar - a unique and talented performer!

Clay White is the band's keyboardist and vocalist. An extraordinary
keyboardist in both blues and rock, Clay gives HOOSIER DADDY that extra
depth and color with his tickling of the ivories and classic Hammond B3 organ
sounds.

John Cianfaglione, a.k.a, Johnny C. is HOOSIER DADDYs' bass player and
vocalist. His virtuoso bass playing and powerhouse voice gives the rhythm
section that major boost. He has the passion and the soul and the groove ...

Rounding out the lineup is Marshall Choka on drums, vocals, and funky grooves. A virtuoso drummer for sure, movin' and groovin !
His distinct vocal style, creative power, and 'off-the-hook' drumming fits right in with the Hoosier Daddy Lifestyle!!!!

---